Hello!
Just to catch up with some somewhat old news.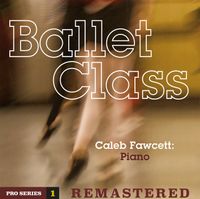 The album Ballet Class: Pro 1 Remastered did indeed come out a few weeks after my last post in June and is currently available here or via your favourite download store/streaming service.
I will soon begin work on another ballet class album - though I am still deciding whether to make another Pro Series or perhaps to concentrate on some music for the younger dancer. Feel free to write to me with any thoughts. (info@calebfawcett.com)
A new episode (Ep. 6) of the podcast The World We Want: Youth Voices on Climate and Health has recently dropped - this one focuses on the work of Omnia El Omrani, who has been given the role of  President Envoy on Youth for the upcoming COP 27. With governments still (!) kicking their heels with regard to policies to tackle the ever growing climate crisis, the voices of these young activists demand to be heard, more than ever.
All the best until next time